I'm amazed at how many websites don't talk about Bitwarden; it's a great password manager. I'm also amazed by the lack of detailed information on how to set it up for the average person.
I want to cover step by step on how to get set up with Bitwarden and how to use it too. This guide is for the person who needs a complete step by step guide and who is new to password managers in general.
Video Guides
How To Get Started Using Bitwarden
Links:
How To Create An Identity
How To Create New Login
How To Change Your Passwords In Bitwarden
How To Log Into Accounts Using Bitwarden
How To Back Up Bitwarden
What To Do If You Don't 100% Trust Password Managers
Overview Of Bitwarden Settings
Create An Account
The first thing you should do is create an account.
Go to https://bitwarden.com/
At the top select "Create Account" button that is pointed to below.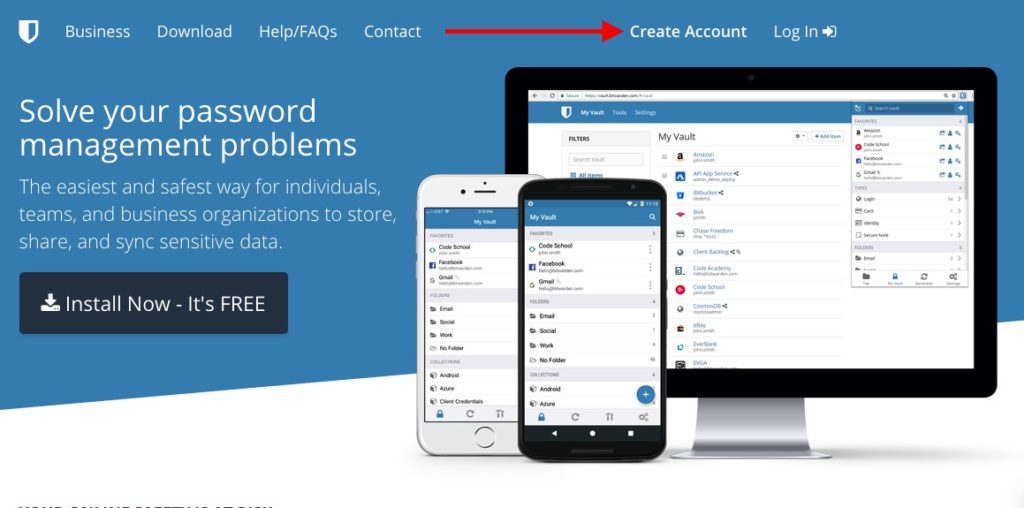 You'll see this screen below.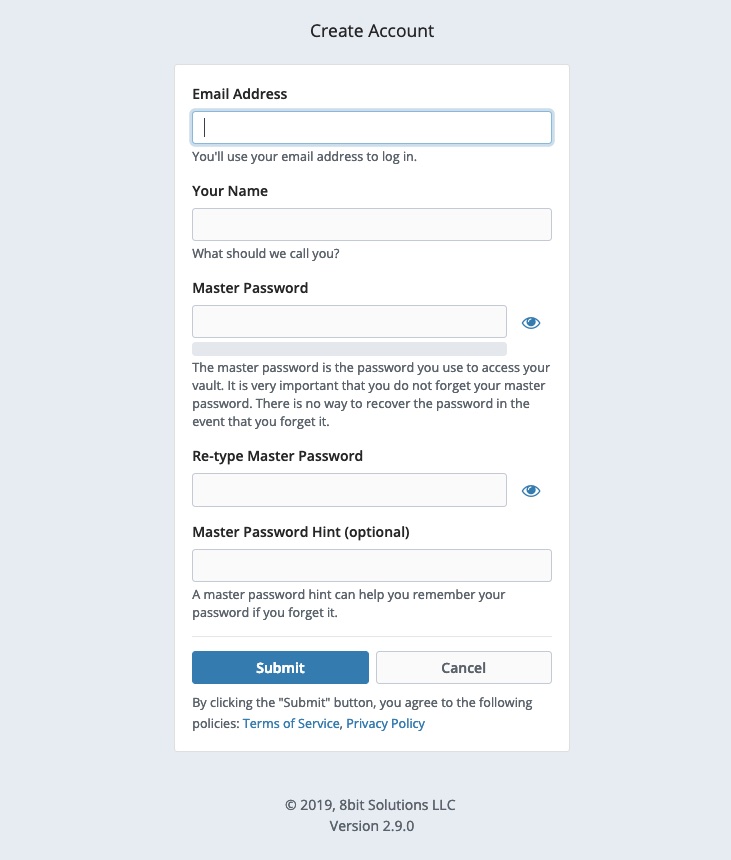 Fill in your Email and Name.
For the master password it needs to be very secure and something you never used before. I have a guide here on how to set up a unique master password. It's essential this password is secure because its the one key to all accounts inside of Bitwarden.
Important: If you forget your master password there is NO reset option. Your vault is encrypted with that password and the only way to decrypt it is with the master password.
Since your master password is so essential I recommend you go ahead and write it down and keep that in a safe or in a safe deposit box. If you have someone you trust you could give them a copy to keep in their password manager or in their safe too.
I want to drive this point home. If you forget your master password, NO ONE CAN HELP YOU! This is a security feature. Write this password down and keep it somewhere safe.
Not having a reset if you forget your password is by design. If Bitwarden had that option that means they are storing your encryption keys and if they have those so could someone who breaches their servers. Never trust an online password manager if they can reset your master password. You have only one password to remember so make it strong and don't forget it.
Note: There is a difference between resetting a master password and being able to change a master password. Bitwarden allows you to change your master password which is fine, but it doesn't allow you to reset your master password if you forget it which is what you want. Resetting a password is what you do when you can't log into a site because you forgot your password and that site sends you a link via email or text message to allow you to create a new password. Being able to reset a master password if you forgot it is not good and you should avoid password manager that can do this. This is also important you don't forget your master password either, write it down and keep it somewhere safe!
Login
When you have entered and submitted your details from before, you'll see a login window.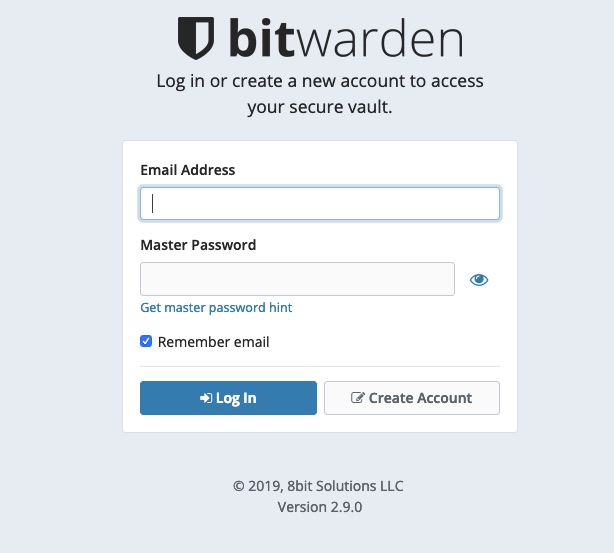 Fill in the details you just created to log in to your new Bitwarden account.
Once in you'll see an empty vault like so.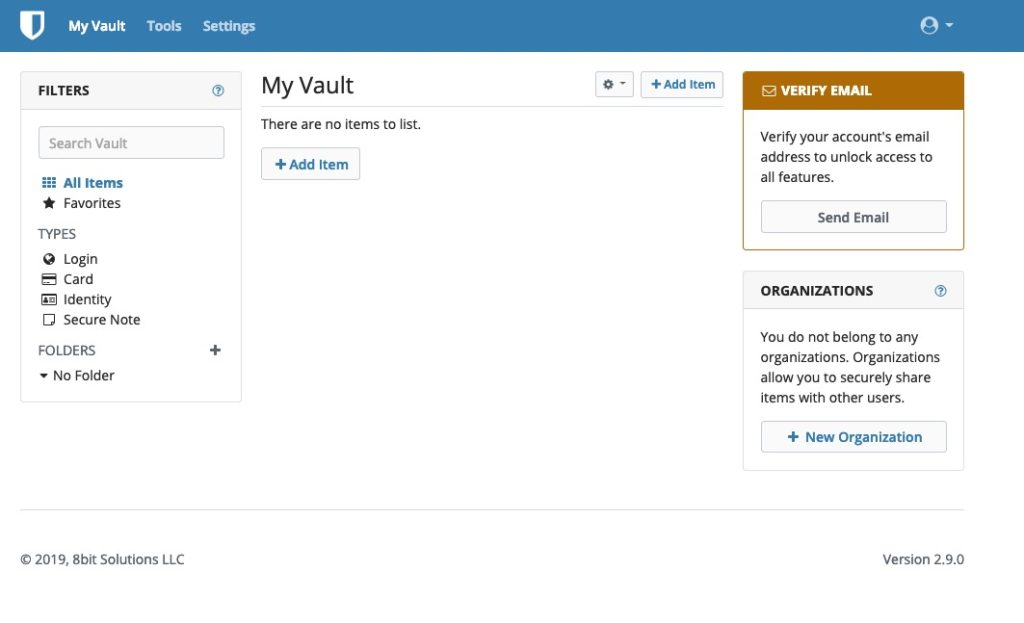 Adding Items
To give you the feel of it you can go ahead and add an item to your vault. Click on the "Add Item" button as shown below.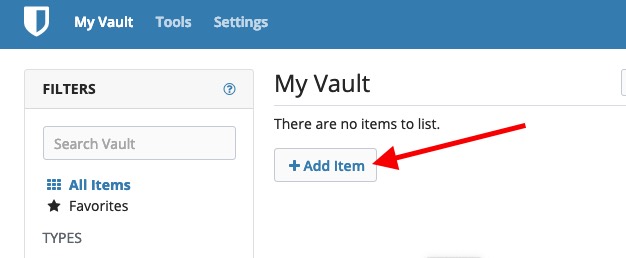 You'll see a window like so…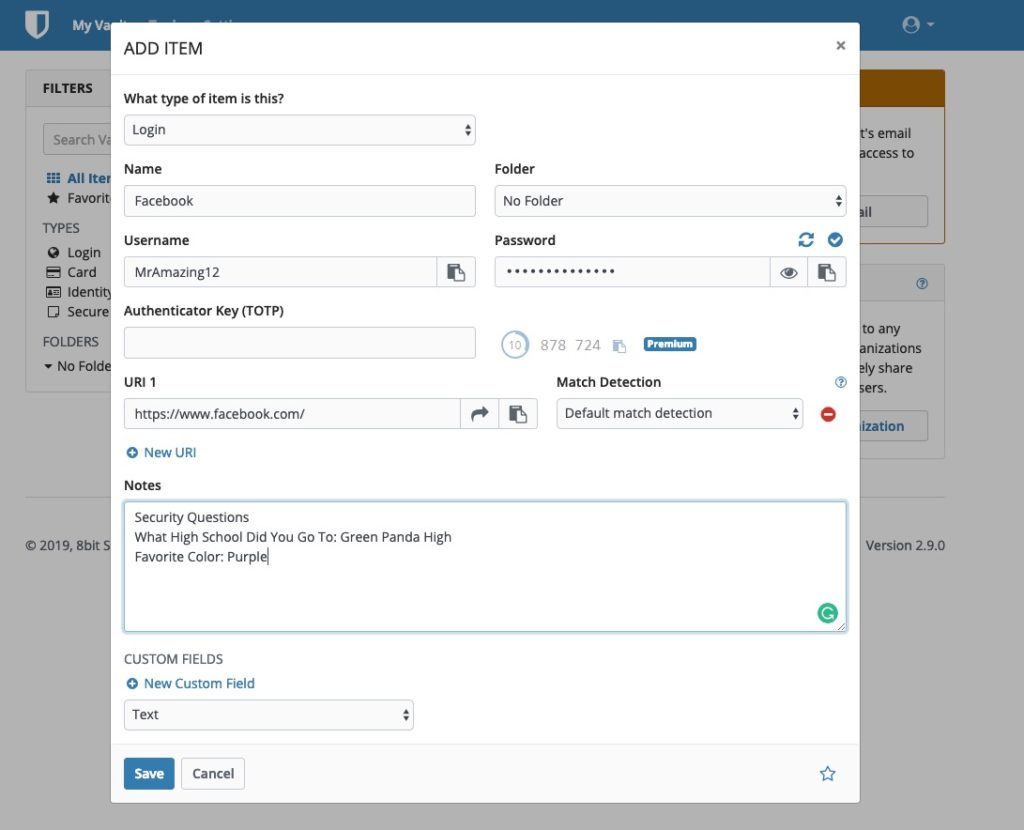 I've already filled in some of the information to give you an idea. The notes section makes for a great place to store security questions.
The password field will be the one that you might have the most questions on.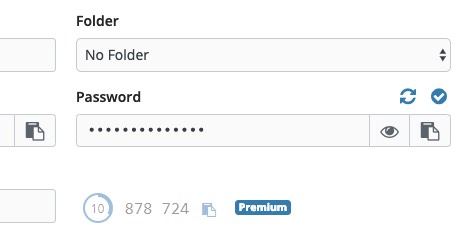 Above the password field, you have two arrows rotating and a check mark in a circle. The arrows are to generate a random password. The checkmark is to check to see if the password has been in any known breaches by checking HaveIBeenPwned database. It checks the password without ever sending it over; I have a guide on how it does that here.
The eye next to the password text box is to reveal the password or conceal it. The clipboard next to the eye is to copy the password to the clipboard so that you can paste it into login fields.
When you're happy with the info you entered you can press the blue save button at the bottom to save the item to your encrypted vault.
Once saved you can see it sitting in your vault.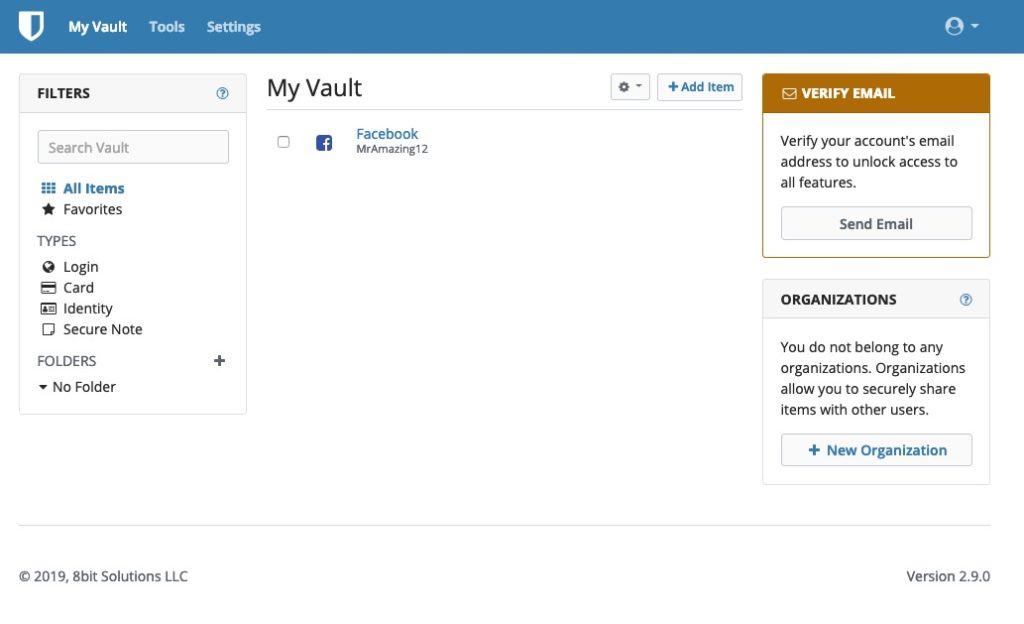 Clicking on the name of the item will bring up the edit window so you can make changes to the item.
If you ever change your password, you'll see a "Password History" with a number next to it in the editing window as shown below.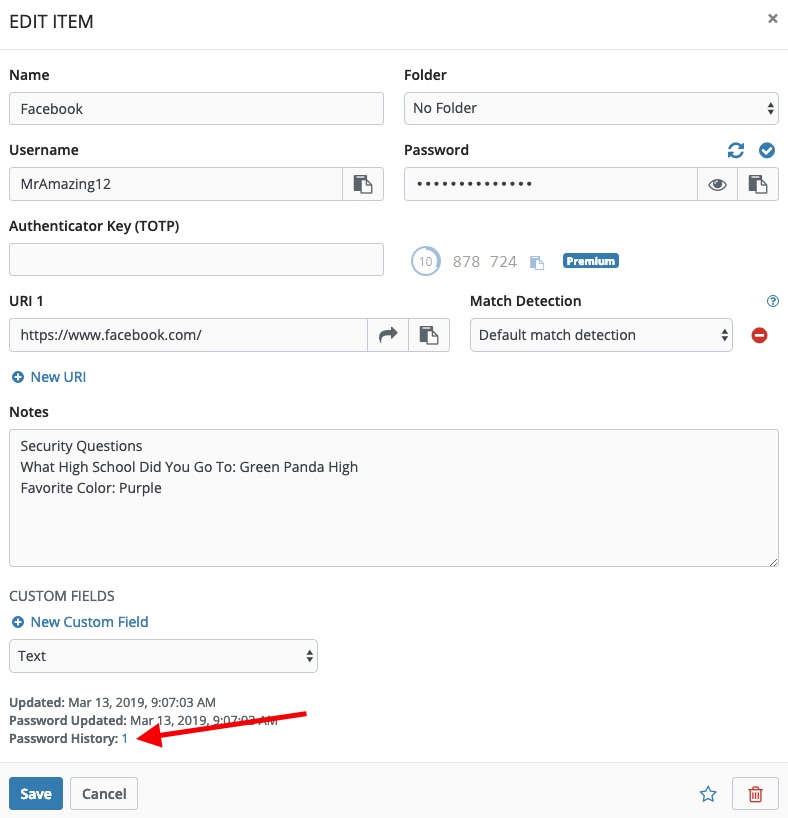 Clicking on the number will show you the last five passwords you had for that account.
Browser Plugin
While the web vault is nice to use when setting up the account it's not the easiest way to use Bitwarden. The best experience you'll get is from using Bitwarden's plugin for your web browser or also as an app for your phone.
Let's go over how to setup the Bitwarden plugin.
Go back to https://bitwarden.com/
Then select the button "Install Now" as shown below.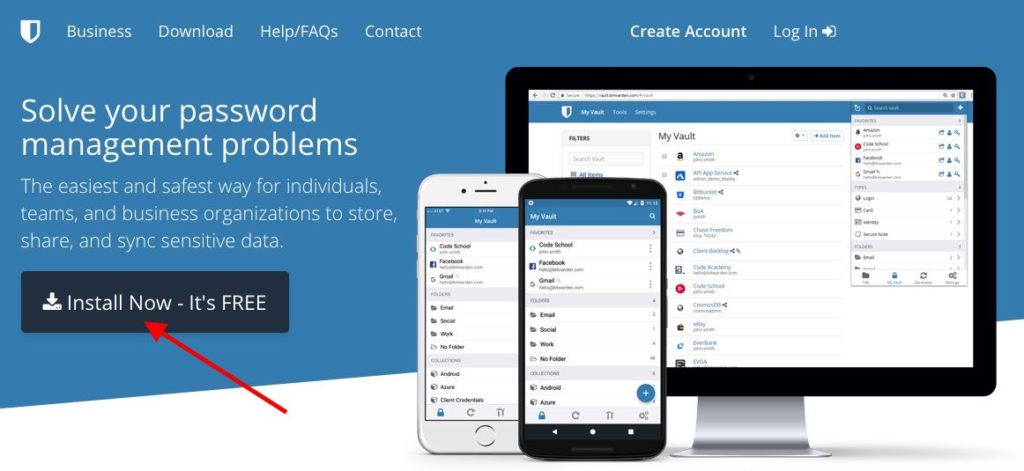 You'll see this page…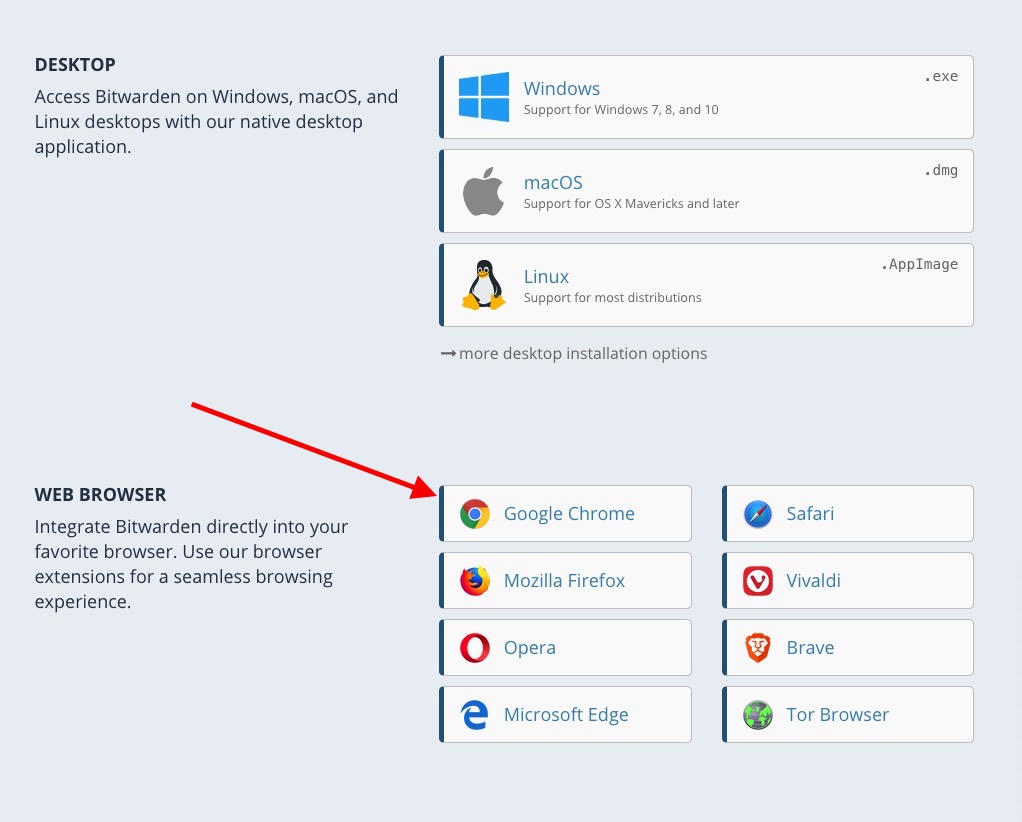 The red arrow points to the browser plugin options. Select the browser you use. Since Chrome is the most popular, that is what I'll use in this demo.
You'll be taken to the install page for your browser. Select "Add to Chrome" and confirm it if prompted.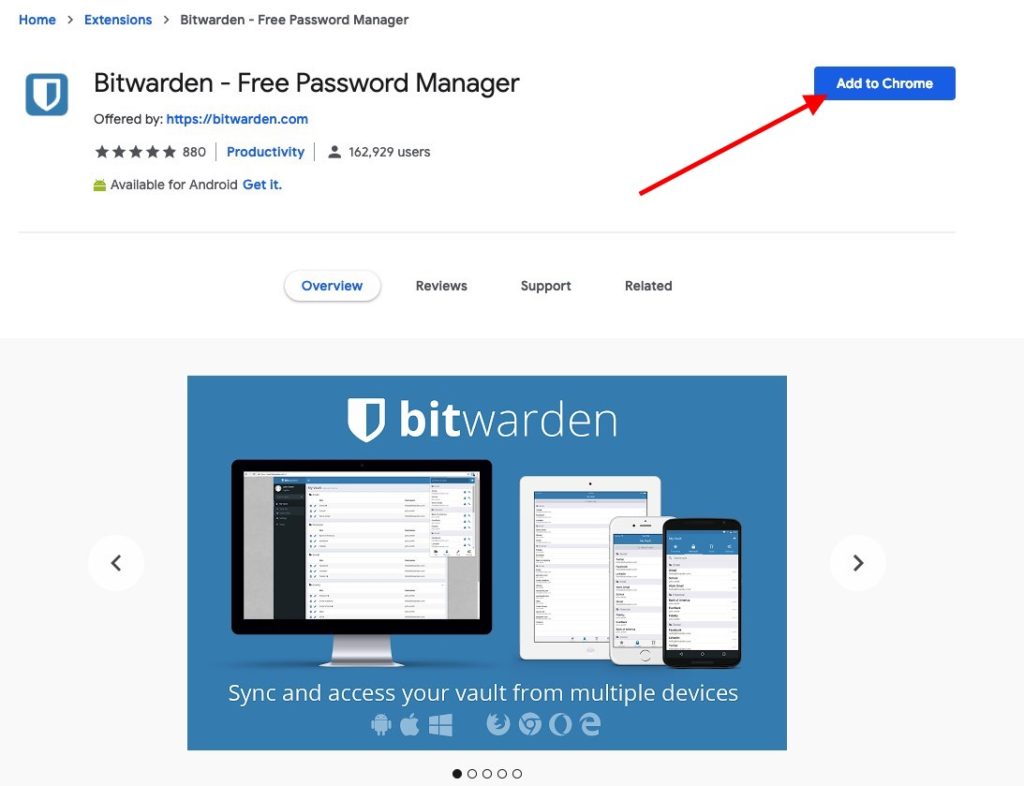 Once installed you'll see a window with a video like so.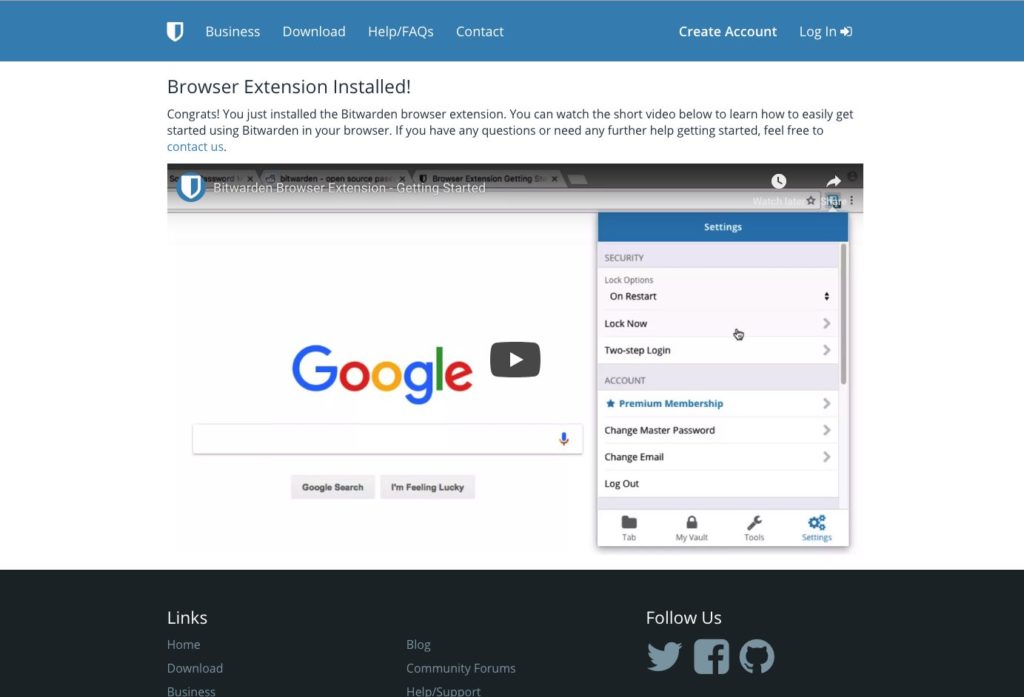 Feel free to watch that video as it goes over a lot on how to use Bitwarden.
If you don't get the video or missed it, you can watch it here…
To start using the plugin you need to log in. Select the "Shield" icon at the top of your browser as shown below.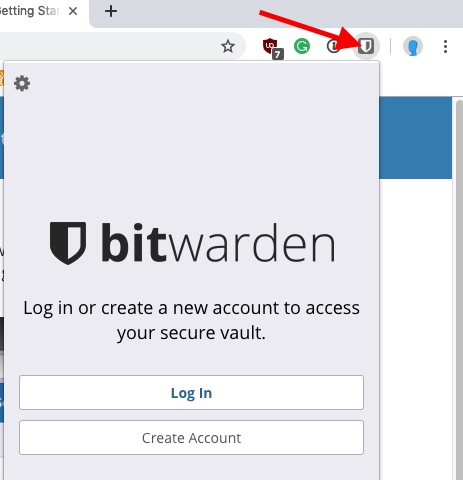 From here press the "Log In" button and log into Bitwarden.
Once logged in you'll see this below.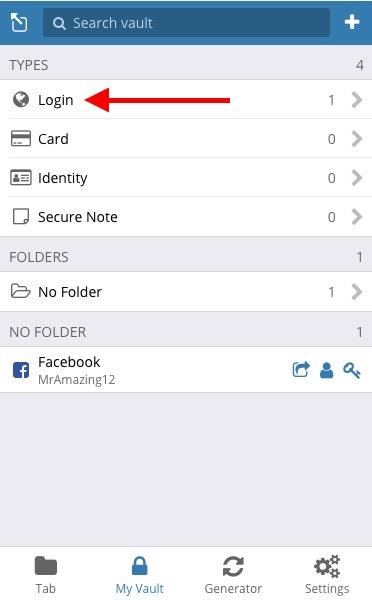 You can even see the item I created when in the web vault. If you select the "Login" that the red arrow points to it takes you to all your accounts as shown below.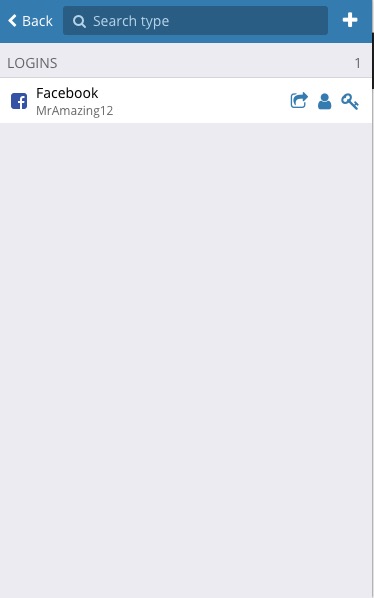 The icons next to the name, the right arrow, person, and the key are quick actions. The right arrow opens a new tab and loads the URL that is in that vault. The person icon copies the username to the clipboard so you can paste it. The key copies the password to the clipboard so it can be pasted too.
Selecting the name ("Facebook") will open the items details so you can edit them.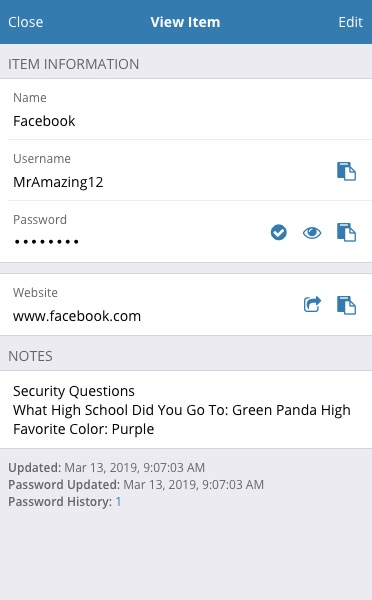 This view should look very similar to the web vault view. Clicking the edit button at the top right will allow you to edit the items in this account. You even have the password history at the bottom just like the web vault along with the same icons that we covered in the web vault.
Adding Accounts With The Plugin
What makes the plugin so much better is that it's easier to add accounts and have Bitwarden fill in the login details for you.
When it comes time to create a new account, this is what you want to do when using Bitwarden.
For this example, I'm going to create an account at Reddit. Go to the create a new account page of that website.
To make your life easier, you want to avoid filling out the username or password on the webpage frist. Instead, click on the Bitwarden "Shield" icon as shown below.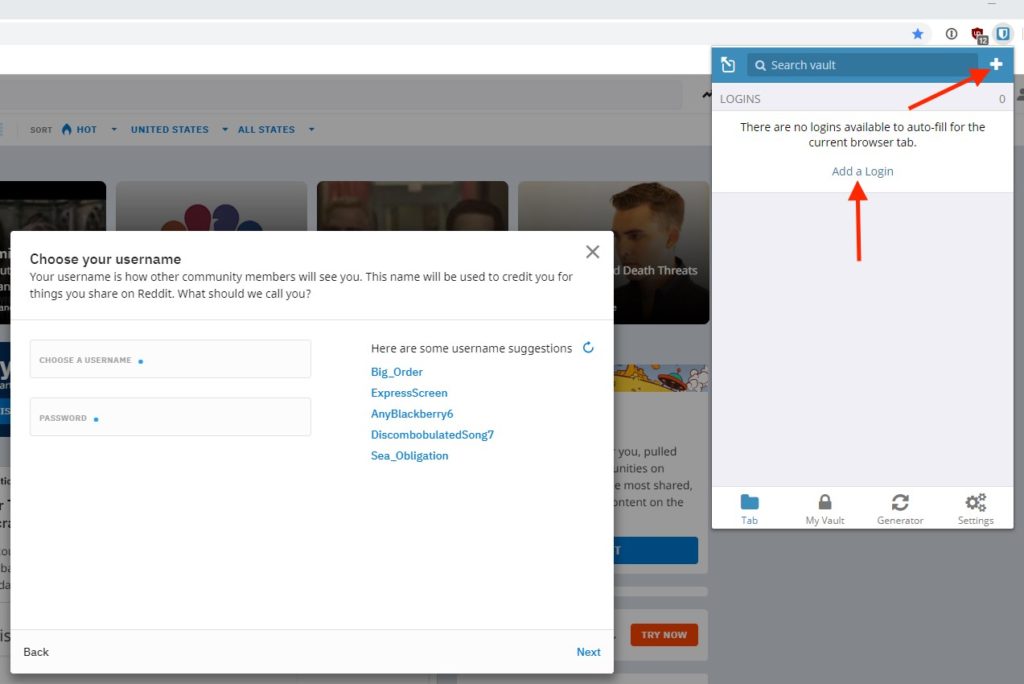 Once the window pops up, it will say you don't have a login for this site. You can either press the "Add Login" or press the "+" button that the red arrows point to.
You'll then see this below.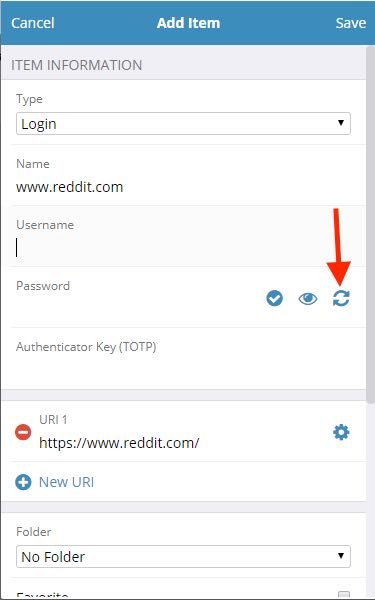 The URL is already filled in for you so go ahead and give it a username.
When it comes to the password press the icon that the red arrow above points to so you can generate a strong password.
You'll see this screen below that allows you to generate a strong password.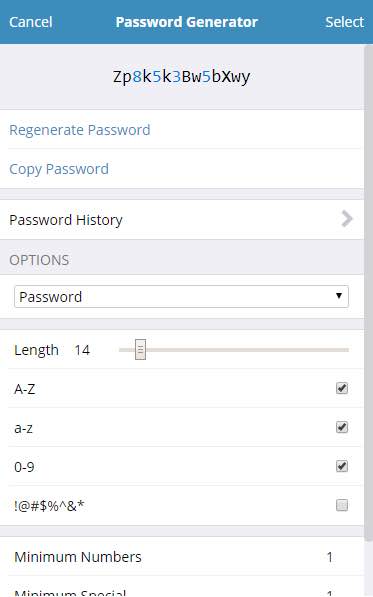 You have many options to pick from but sticking to a length that is 12 or more and a mix of uppercase (A-Z), lowercase (a-z), and numbers (0-9) will be fine. Some sites require a special character and those can be checked on too. Feel free to play with the password settings to fit your and the websites need.
When you're happy with the password press the "Select" button at the top right.
You can also scroll down to the notes section to add any notes or security questions for that site.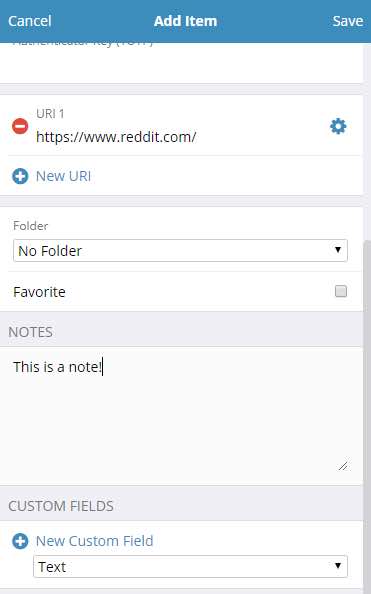 When you're done press the "Save" button at the top right to store that account into Bitwarden's encrypted vault.
Once saved you'll see this screen below.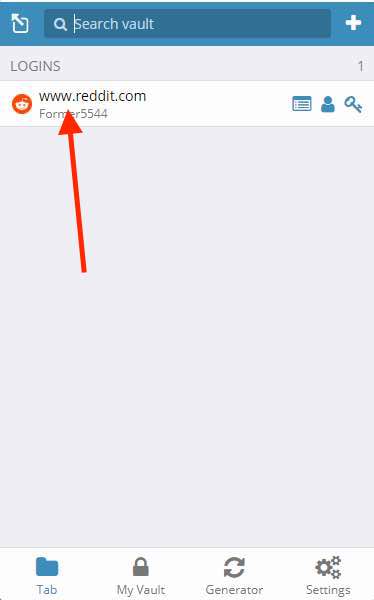 If you have multiple accounts, they'll show up in the "Tab" section. The tab means this is the current tab window you're in; it matches the URL to whatever is in your vault and displays them here. This is also the screen you see when you need to login, selecting the name will fill in the login info.
Press the name of the item as pointed out by the red arrow.
This will fill in the details, and you can continue creating the account.
The reason you want to fill in the details in the plugin first is so that you make sure you get the password saved just in case the site messes up. It's rare, but it can happen.
If you get the password requirements wrong its okay. To change the item open Bitwarden back up and select the icon the red arrow points to below.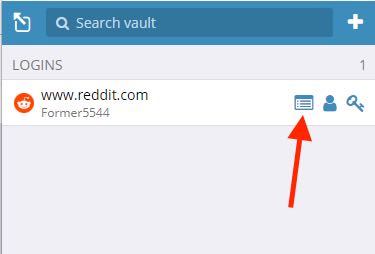 This will reopen the editing window so you can select a new password.
Catch Adding Account
If you log in to a site that Bitwarden doesn't have already in its vault, it will prompt a dropdown asking if you want to save it.

If you want to add it select "Yes, Save Now."
This is an excellent way if you're new to password managers to get your passwords added to your vault. Log in when you need to and allow the app to store them for you.
Other Stuff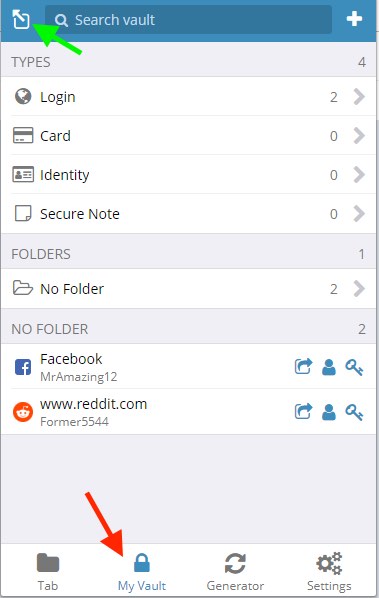 To see all your items in your vault click on the "My Vault" that the red arrow above points to.
If this small window is annoying by disappearing all the time click on the icon at the top left that the green arrow points to. This makes the window float which is easier to deal with. Even gives an icon at the taskbar on Windows.
Next to the green arrow at the top is the search box. You can search for anything in your vault and is often quicker this way if you need to find a particular item in a massive list of accounts.
The generator button at the bottom is to generate passwords if you need to.
And next to the generator is the settings that allow you to configure things like when the app locks, setting a PIN, Import or Export passwords and signing up for Premium.
Can You Trust Bitwarden?
I'm not paid by Bitwarden to write this, so everything I say is my own opinion.
Bitwarden is open sourced. This means anyone can view the code and find any exploits or issues. Since there are so many eyes able to see any problems it makes it more secure then many closed sourced password manager. This does not mean it's perfect but its a step in the right direction.
What is important is how they make money. You want them to be around for a long time and you don't want them making money off selling your info.
So far I don't see Bitwarden selling user info and the way they make money is by selling the Premium version of the app. At the current price its only $10 a YEAR which is quite cheaper than the competition. Paying $10 a year is well worth it to keep such important info secure if you ask me.
Most people won't need the premium upgrade, but I would suggest going with it to support the continued development.
Learn More
This is where I'm going to end this guide. There is still a lot more to learn like sharing passwords with other people and 2FA but this guide is only to get you started.
If you have questions, please direct them to Bitwarden at these locations…
https://www.reddit.com/r/Bitwarden/